MARCELO SIERO
165 Brackney Rd.
Ben Lomond, CA 95005
(831) 335-5600


Theatrical Resume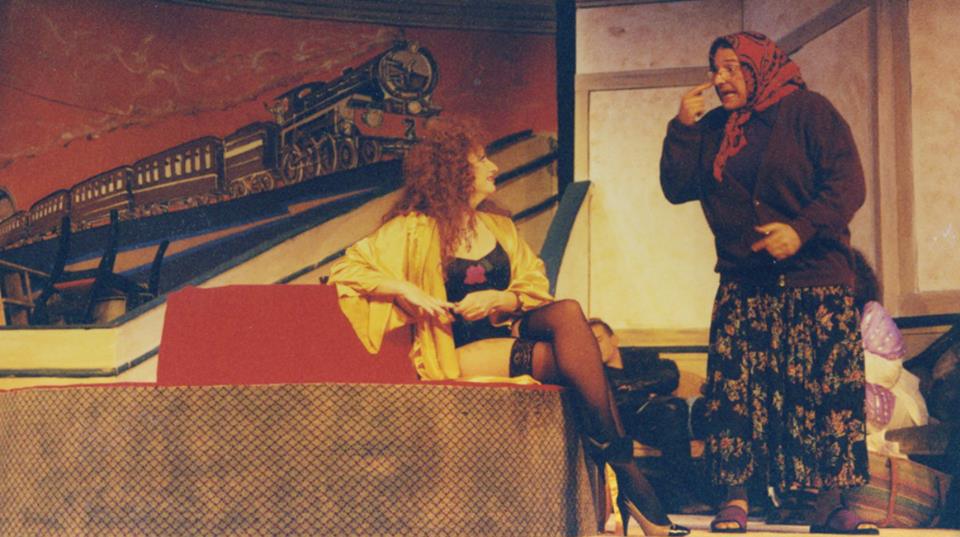 Cabrillo College Theatre
Inherit the Wind — role: Henry Drummond (lead)
-- The story of the most famous trial of the 20th Century, "The Monkey Trial" put the teaching of Evolution to the test in the courts in 1925. The subject remains as politically relevant today as it was then.
Great Domains Tour
Role of King in "The Great Domains Grand Tour" of Los Angeles, Hollywood, New York, and San Francisco, to promote the auction of the domains: Taxes.com, Cinema.com and Loans.com.
Mountain Community Theater
Love on the Loathsome Stage – role:  Parson Weams (lead villain in interactive melodrama)

Inherit the Wind — role: Henry Drummond (lead)

Hot'l Baltimore – role:  Mrs. Bellotti (mother, see picture above)

Night of January 16th — role: Sweeney — New York cop

Days of Infamy — role: Bruno — (Italian Accent)

Breakfast of Champions: numerous roles

Remembering Miles — role: Philippe (French accent)
Santa Cruz Actors' Theater
Cruz the East Festival:  "Baggage" – (lead in short mini-play)

This One Thing I Do — roles:
1)  Selden (Defense Attorney to Susan B. Anthony)
2)  Priest (wedding scene)
3)  Father to Susan
Suite on the Ark — role: Barney

Thunderrock — role: Soldier of Fortune  

Trompe L'Oeil – role:  Art Forger (French accent)

Nasrudin's Wild Ride – role:  Nasrudin (lead, Middle Eastern accent)
Barn Theater
Twelve Angry Men:  Co-Director and Sound Track Design  

Making it Like the Movies – role:  Ramon (lead, bilingual: Spanish/English)
    
Shakespeare Festival at Cal State University, Long Beach
Julius Caesar — roles:  Artemidorus plus other small roles plus sword play

Midsummer's Night Dream — Snout/Wall

Numerous small scenes including Othello, Mark Anthony and others
Foothill College Stage
Palo Alto Playhouse
Wilson High School Stage
The Bad Seed - role: Father

Arsenic and Old Lace — role: Inspector Rooney
Movies and Radio
Yellow Eyes — role: The Man - Indian accent — KCSU Radio

Duelo de la Ca ñ ada – Poem – performed on Spanish Speaking TV (first place winner of poetry and declamation contest at CSU, Northridge)

Steelheel — Movie, by Blackstone Productions - small speaking role as chauffer

Storytelling
Marcelo has been doing storytelling and oral interpretation nearly all his life, having won numerous awards for many of his performances.  His storytelling repertoire includes such authors as:  Mark Twain, 0. Henry, Edgar Allan Poe, Oscar Wilde, Richard Bach as well as his own original stories.

Personal Background
Birthplace: Havana, Cuba
Birthdate: April 13, 1949;  Age: 30-65
Height 5' 10", Hair: Brown
Race: Caucasian/Hispanic
Bilingual: Fluent in both English and Spanish
Accents: Spanish, Italian, French, Indian, Chicago (with practice), New York
Black Belt in Judo, 2nd Place Winner, So. Calif. AAU Championship, Open Division
Travel: South America, Europe, India, Japan, Caribbean, Canada, Spain, Italy
Profession: Computer Engineering Consultant and Entrepreneur

Education
B.S. in Electrical Engineering (CSULB), Masters in Computer Engineering (UCSC 2016)
Many Theater Arts courses including Improvisation, Shakespearean acting, Storytelling and Oral Interpretation at Cal State University at Long Beach and Cabrillo College.

References:
Randy Birch -- Director, Mountain Community Theater
Kathie Kratochville -- Director, Mountain Community Theater
Sarah Albertson -- Director, Cabrillo College Theatre